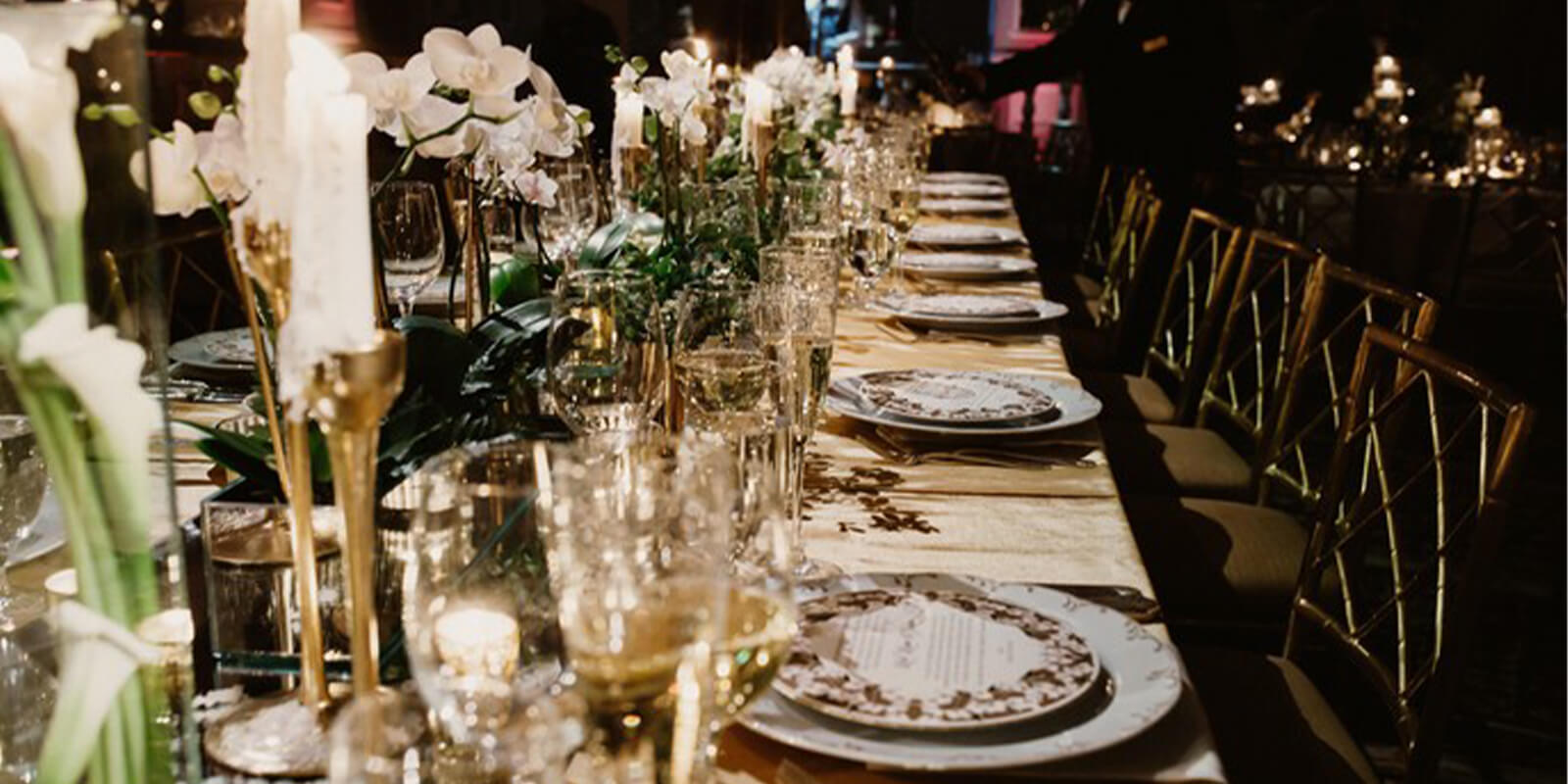 When it comes to hosting an event, you want your guests to feel special and create a memorable evening they won't soon forget. Especially a company annual dinner, where most employees look forward to since it's a day they can dress up and get together for a big celebration with good food and company.
There's a lot to be said about an entertaining gala – Themes can be anything on the spectrum from ostentatious, classy, fun or vintage, you'll be spoilt with too many ideas to make a final decision on the theme!
There's something very luxurious about the 007 experience. There are countless opportunities for glamorous styling with this theme. The guests play a vital role in this evening as most of the glamour shines through tuxedos and ball gowns, so a black-tie request is a must!
The perfect theme for an award-giving night with theatrical costumes, entertainment and props, your dinner is bound to draw praise from the art and entertainment lovers! Plus, it can realize one's fantasy of being at the Oscars!
Something is exciting about going back to school. It's a great idea if you want your guests to have fun! Incorporate blackboards, serve typical school snacks and even invite your guests to wear school uniforms. This can be a really fun and memorable event for everyone!
The sea is vast, calm and enchanting, why not make it the theme for your Gala dinner? And since seafood fits in perfectly with the nautical theme, this makes your decision on what food to serve easy. 'Under the Sea' is a popular company annual dinner theme, you can never go wrong with it!
People love costume parties and the best part about a modern masquerade party is that the guests don't have to wear an actual costume – They can dress elegantly and accessorize with an intricate face mask. Make the attire black-tie or white-tie optional so that people can capture the heightened sense of Renaissance style that these events hold.
Adorned by colourful drapes and a wonderfully vibrant setting of carpets, magic lamps and cushions, the Arabian Night theme will surely give you an authentic Moroccan experience. Make Arabian costume the dress code for your dinner to match the atmosphere of the night. Consider having a belly dance performance as part of the dinner highlights to complement your event!
You don't have to wait till Christmas to experience a Winter Wonderland! From artificial icicles, frosted glass and even a snow/smoke machine there's no limit to the extent you can go with this theme!
It's time to boogie! Dance your way back to the 70s by throwing a retro disco night annual dinner for your company. With great lighting, fun music, and retro decorations, you can make this simple theme party a total blast for all of your guests! 
Inspired by F. Scott Fitzgerald's novel, this British high brow culture is a popular company annual dinner theme due to the colour scheme exuding class and richness being well-suited for formal events. Avoid balloons and disco balls for this theme, opt for flowers, candles, feathers and draping chiffon along the walls.
Regardless of the type of party or event you're planning, a theme centred on the popular show Crazy Rich Asians is a pretty unique way to bring a touch of opulence and luxury into your big day. 
Everyone dreams of being a VIP for a day at least. From glitzy decor and glamorous attire to sophisticated treats, a Hollywood-style soiree will make everyone feel like a celebrity for a night. Not only is this theme an opportunity to enjoy a lavish affair, but it's also a great way to show off your tuxedos and dresses. Don't forget to smile for the paparazzi on the red carpet!